WORKS
TTSA mainly offer those features to Taiwanese student in Kanto area of Japan (Including: Ibaraki prefecture, Tochigi prefecture, Gunma prefecture, Saitama prefecture, Chiba prefecture, Tokyo metropolis, Kanagawa prefecture).
Community
TTSA collaborate with member universities for building larger Taiwanese student community. (TTSA has membership with University of Tokyo, Waseda University, Keio University, Meiji University…and more)
Information
TTSA offers news from this association, notification from the embassy, information from the member universities, beneficial information for studying abroad. TTSA also publish how-to article on officail homepage every week, and also publish online magazine every month.
Event
TTSA also holds event for Taiwanese students as well! Each month we holding different event to offer the chance for Taiwanese students making new friends. Such as welcome party, fireworks festival, visit the National Diet Building, winter trip…etc.
About
To offer Taiwanese students the better study experience in Japan. TTSA was establish from 1946.
Organization name
Tokyo Taiwanese Student Association.(TTSA)

Department
President, Vice-president
Department of Project Management
Media Advertising Department
Graphic Design Department
Secretary Department
Web Development Department

Date of establishment
May 22, 1946

Social Media
・Facebook Pages: http://fb.me/TTSAmazing
Offering lateset information from the embassy, member universities and our official partner.

・ Living Information Facebook Groups: http://bit.ly/1XipWWF
Offering Taiwanese students to sell their second-hand items and to solve living problems.

・Part-time & Interns Information Facebook Groups: http://bit.ly/25WAJaZ
Offering Part-time jobs, Internship and Job Hunting information.

Monthly magazine
Magazine for Taiwanese Students in Japan
News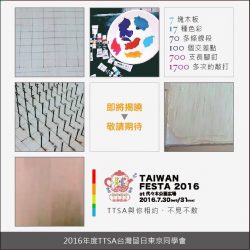 Have you ever play pinball in Taiwanese night market before? Now you have a chance to play the pinball of Taiwanese night market style! By using the roller to shot the pinball, then you can get the prize! (No losing area!!) Come to join us and have fun!(・∀・)ノ More information>>>http://twfes.com/ 2016 TTSA[…]
Previous
Next